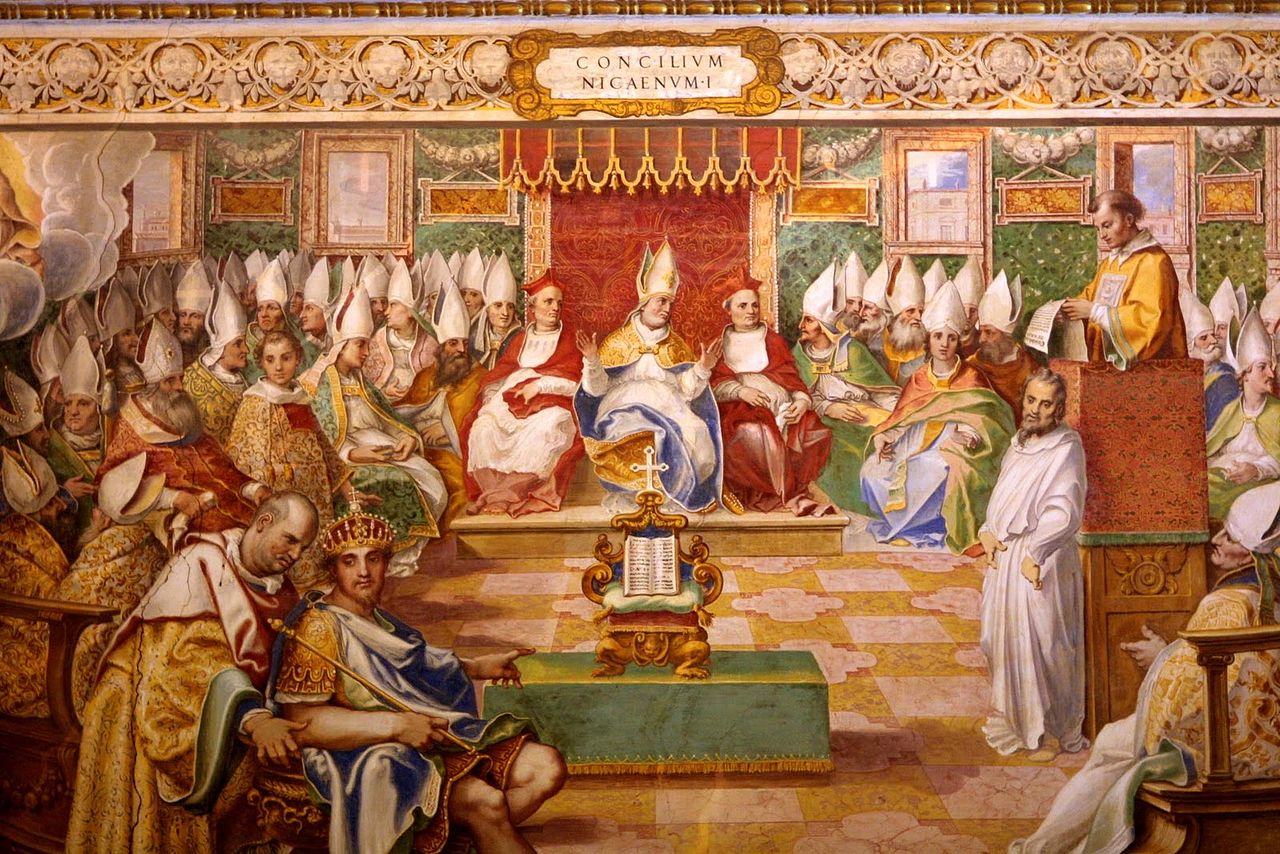 The Council of Nicea (AD 325)
The Nicene Creed is arguably the most succinct statement of the doctrine of Trinity. It is the Christian 'Diamond Sutra'* that cuts through the deception of the slogan of Arian heresy/illusion about Jesus Christ, "There was when he was not".
*["Sutra": In Sanskrit literature, a rule or aphorism, or a set of these… expressed with maximum brevity (Shorter Oxford English Dictionary). The comparison is about the quality of sharp, incisive and acute critique of the Creed rather than about 'emptiness' of all phenomena.]
Arianism asserts that  (1) the Son must be a creature, (2) the Son must have a beginning, (3) the Son can have no communion with, or direct knowledge of, His Father, and (4) the son must be liable to change and even sin.
Hence, the Nicene Creed declares,
We believe in one Lord, Jesus Christ,
the only Son of God,
eternally begotten of the Father,
God from God, Light from Light,
true God from true God,
begotten, not made,
of one Being with the Father.
Through him all things were made.
Students may be overwhelmed by the profundity of the theological concepts and feel daunted at the prospect of having to plow through ponderous historical tomes to understand the Nicene Creed fully. Thankfully, learning the essentials of the Arian controversy can now be fun and cheery. Just read "The Council of Nicea Rap Battle" by Michael Bird:
The Heretical Arian Rap:
We all know the creed that God is one
God is the Father and the Father has a Son
But the Son does not share in the Father's might
The Son is something of a lesser light
The Son is divine but the Father is greater
The Son was made and the Father's his maker
The Riposte from Athanasius the Nicene Creed Champion:
Brothers and bishops I beseech ya
If the Son was created, then he's merely a creature
And one creature cannot redeem another
Whether he's an angel, a saint, or even the holy mother
Only God can be our Saviour
And he saves us by grace not by our behaviour
The case is simple, not strange, or odd
The Son fully saves cause the Son is fully God
Ya see, Arius and Eusebius think they're really hip
But if they are right then they pervert our worship
If the Son was created, then we're worshipping a creature
In the history of idolatry that's like the main feature.
If doxology was money, then Arius is broke
By following Arius, we make our worship a joke
To sum it all up, my argument is thus.
Father and Son are homoousios!
You should read and enjoy the full lyrics of Bird's rap at:
The Council of Nicea Rap Battle