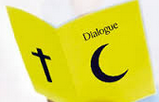 "Come now, Let us reason together, says the Lord." (Isaiah 1:18).
Muslim polemical literature against Christianity is readily available in bookstores around Malaysia. Their polemics gain media attention when institutions of higher learning organize forums to perpetuate false information about Christianity. For example, in 2014, the Universiti Teknologi Mara (UiTM), Shah Alam, organized a seminar on "Seminar Kalimah Allah & Kristology Nusantara ("The Word 'Allah' and Christology in the Malay Archipelago"), purportedly "to defend the dignity of Muslims in the country and also to give them an understanding as they are being confused by this issue."
-"UiTM Warns Students About The Threat Of Christianity In "Allah And Christology" Seminar
-Gospels are 'Fake' as Jesus was 'Human Slave to Allah', Don Claims [The Malaymailonline 6 May 2014]
-Books Warning Muslims About 'Christian Agenda' Distributed at Allah Forum in University
Several seminar speakers were reported to have mocked at Christianity as they posed rhetorical questions that suggest the grounds for Christian beliefs are fundamentally flawed. For example, in a forum "Christianisation vs Islamization", the speakers answered pre-prepared questions that included "Did Jesus really die on the cross for the forgiveness of sins?", "What is the Trinity?", "Why did Jesus cry 'Eloi, Eloi, Lama Sabachthani' (Aramaic for "My God, my God, why have You forsaken Me?") while on the cross?"
Another speaker claimed that the parts of the Bible based on his teachings should simply be called "Tales of Jesus" instead of the "Gospel". The books in the Bible were written by Christ's disciples such as Matthew, Mark, and Luke were considered hearsay and similarly should not be considered the Word of God. The so-called gospel is only Jesus' words, speech, hence should not be called gospel. He asserted, "The Christian gospel is a fake gospel."
These speakers were trying to confuse Christians with fabricated lies. Instead of clarifying confusion among Muslims, they were promoting prejudice among Muslims against Christianity. Christians are justified if they feel offended. However, they are mindful of the divine exhortation given in their Holy Book on how to respond peaceably to faultfinders, "Have no fear of them, nor be troubled, but in your hearts honor Christ the Lord as holy, always being prepared to make a defense to anyone who asks you for a reason for the hope that is in you; yet do it with gentleness and respect, having a good conscience, so that, when you are slandered, those who revile your good behavior in Christ may be put to shame" (1 Peter 3:14-15).
Instead of reacting to these Muslim polemicists, Christians are more interested in reaching out to other Muslims who are sincere when they raise questions about Christianity as these Muslims genuinely believe in constructive dialog. To these sincere Muslims we would like to offer "FAQ: Muslim Questions – Christian Answers" as a modest contribution to promote interfaith understanding. Hopefully, the two FAQs given below will assure Muslim inquirers of the intellectual integrity and peaceful intentions of the Christian community.
Continue reading "FAQ on Muslim Questions – Christian Answers (Updated)"