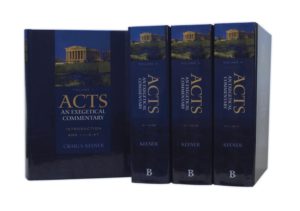 Bart Ehrman's Challenge to Evangelicals to Renew Studies on NT Introduction
Bart Ehrman, in his youtube video "Christianity One Year After Jesus," speaks favorably both of scholars who suggest that Luke was dependent on the writings of Josephus from the 90s AD, and other scholars who suggest that Luke was written around 120 AD. Ehrman eventually settles for around 80s AD for the date of Luke.
Not surprisingly, he also questions the historical reliability of the book of Acts. According to Ehrman, Acts says things which seem implausible given what else we know about the world at that time and what we know about early Christianity etc.
If one rejects the historical reliability of Acts, the earliest historical record of the birth of Christianity, everything else in the NT is called into question. NT history is then reconfigured according to the skeptical presuppositions of critics like Ehrman. Continue reading "Bart Ehrman on the Date and Historical Reliability of Acts. A Challenge to Evangelicals to Renew Studies on NT Introduction"