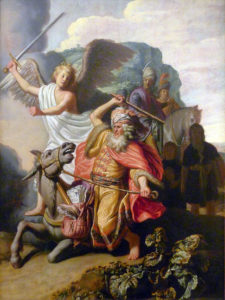 Balaam and the Ass – Rembrant (1626)
The Ancient Near Eastern mythological texts may appear to be obscure and irrelevant to us today. In reality, these texts continue to be influential since the structures of these polytheistic myths are embedded in later forms of Arabic monotheism which emerged a few centuries after Christianity & which gained dominance over vast stretches of territories in Asia and Africa.
Since these later forms of "monotheistic" religion developed from polytheism,* they are undergirded by the same polytheistic structure which portrays humans to be helplessly subject to the control of Fate. Note that Fate in ancient polytheistic religion is note fatalism because in the ancient polytheism, Fate can be manipulated through rituals of divination, incantations and sorcery. The rituals have intrinsic efficacy, but their efficacy is enhanced under the guidance and empowerment of the gods. However, such relief from Fate is temporary and limited since ultimately, even the gods are subject to Fate. Nevertheless, in principle, misfortune or ill-fated events can be discovered through divination so that proper rituals and incantations may be implemented to nullify them.
However, when Arabic polytheism later evolved into "monotheism", that is, when all the gods were merged into one God, divination and sorcery were rendered ineffective since their rituals became deprived of assistance from the gods who have vanished. Furthermore, in contrast to the gods of polytheism, the God of the later forms of monotheism are not involved with the daily struggles of believers because he is supremely transcendent and inaccessible to mere mortals. The consequence is that without recourse to divination and sorcery, Fate can no longer be manipulated so that ill-fated events may be nullified. The ironic outcome of these later forms of monotheism is an equivalent of "Fate is control". This leads to a sense of fatalism. Continue reading "Christian Monotheism vs Fatalistic Monotheism"