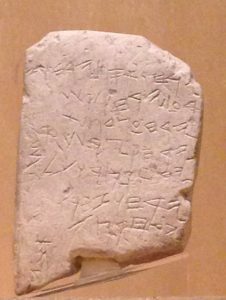 Reply to Three Questions From a Reader Arising from the Paleo-Hebrew Article "How to Misread the Bible in the Name of Paleo-Hebrew 3 (Full Article)"
Answers by Dr. Leong Tien Fock*
Question 1. In terms of the historical progression of language development from Proto-Sinaitic to Paleo Hebrew to Aramaic square script, are you suggesting that when paleo Hebrew was used, the original pictographic meaning of the letters was lost to users? i.e. was the use of paleo Hebrew only phonetic, with no progressive overlap from the old (Proto-Sinaitic) to the new (Paleo script) in the understanding of users?
Answer: The original article "How to Misread the Bible in the Name of Paleo-Hebrew 3 (Full Article)" is quite comprehensive in showing that all the letters of the Hebrew alphabet EVEN in the Proto-Sinaitic script were originally ONLY phonetic. Thus when this script was changed to the Paleo-Hebrew script, there was no change from pictographic meaning + phonetic meaning to phonetic meaning only. It has always been phonetic ONLY. Hence the question of "progressive overlap" or the "original pictographic meaning" being lost does not arise. Continue reading "Three Questions Arising from Article on Paleo-Hebrew"