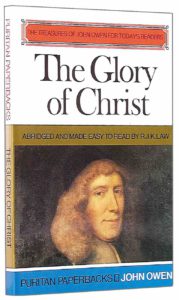 While Peter de Rosa's verses on the humanity of Christ may be heart-felt and evocative, John Owen's reflection on Christ assuming humanity is suffused with contemplation and prayer. For Owen theology ends with doxology. Given below is a much abbreviated and stylistically modernized version of Owen's reflection of the Incarnation as Christ's act of self-humiliation – Christ veiled his divine glory in the flesh.*
———
The Glory of Christ's Humbling Himself
Christ, being in the form if God, says Paul, willingly took himself the form if a servant. He willingly humbled himself. He willingly made himself of no reputation and was obedient even to the death of the cross (Phil. 2:5-8). It is this willingness to humble himself to take our nature into union with himself which is glorious in the eyes of believers.
Such is the transcendent glory of the divine nature, that it is said of God that he 'dwells on high', yet 'humbles himself to behold the things that are in the heavens and in the earth' (Psa. 113: 4-6). God is willing to take notice of the most glorious things in heaven and the lowliest things in the earth. This shows his infinite humility… Continue reading "John Owen on Christ's Great Condescension: Divine Glory Veiled in Flesh"