CONSTITUTIONAL CONFLICT AND ETHICS IN CURRENT MALAYSIAN POLITICS
VENUE: HERITAGE CENTRE (PJEFC)
DATE: FRIDAY 20TH MARCH 2009
TIME: 8.30PM – 10.30PM
SPEAKERS:
PROF. DR. SHAD FARUQI University Teknologi MARA; Author of Document of Destiny: The Constitution of the Federation of Malaysia (2008) (Star Publications)
MR. PHILIP T.N. KOH Co-editor of Sheridan & Groves, The Constitution of Malaysia, 5th Ed (2008)( MLJ) and  Co-Counsel in The Tun Mustapha v Tun Adnan Roberts & Dato Pairin Sabah cases in 1985.
DR. NG KAM WENG Research Director, Kairos Research Centre
CHAIRMAN:MR. M. SELVEINDRAN Chairman, Kairos Research Centre
The unfolding Perak Constitutional Crisis and political events following the March 8, 2008 General Elections have raised some difficult challenges to democratic governance in Malaysia. Some of the contentious issues that have gained prominence include the following:
* How should the Federal and State Constitutions be interpreted in the context of the present political conflict?
* What is the scope of the Sultan's discretionary power to appoint or dismiss members of the State Executive Council?
* What are the moral and legal issues arising from party hopping?
Resolving the present Constitutional conflict will require an informed judgment that takes into account legal precedents both in Malaysia and in the Commonwealth. The purpose of this Forum is to provide a legal, political and ethical context to evaluate the plurality of views that have been expressed in the media.
The Forum will also provide theological and moral resources for Christians seeking to be responsible citizens who can engage realistically with the moral issues arising from the present political conflict.
Who Should Attend?
Pastors, church leaders, youth leaders and all concerned citizens who desire to gain an understanding of the vital issues that impact our nation.
———————
Forthcoming Forums (be on the lookout for further details):
(1) Global Economic Crisis
(2) The Israel-Palestine Conflict
Map to Heritage Centre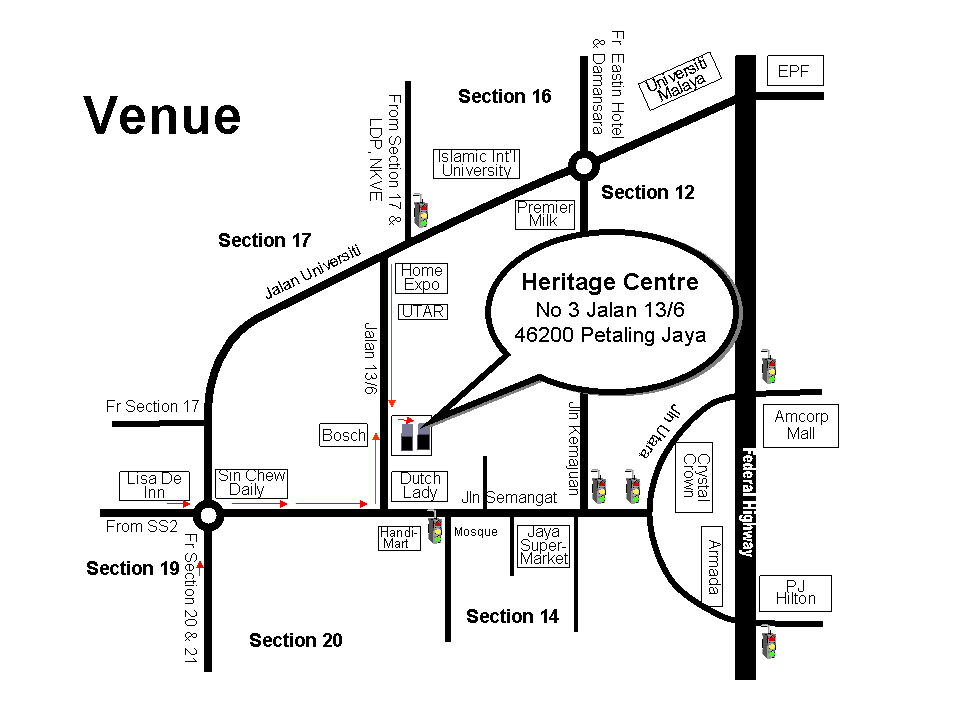 No. 3, Jalan 13/6
46200 Petaling Jaya