MODULE on ASIAN RELIGIONS: Islam & Buddhism (30-Hour Lectures)
Organized by Malaysia Bible Seminary and Kairos Research Centre
PROGRAMME INFORMATION
LECTURER       DR. NG KAM WENG
DATES                 March 27-31, 2017
DAY & TIME     Monday–Friday, 9.00 am–5.00 pm
VENUE               Dream Centre PJ (DUMC)
2 Jalan 13/1, Seksyen 13
46200 Petaling Jaya, Selangor
FEES     Graduate M.Min/MCS/M.Div     : RM360
Undergraduate     : RM225
Audit     : RM200
Registration Fee     : RM 30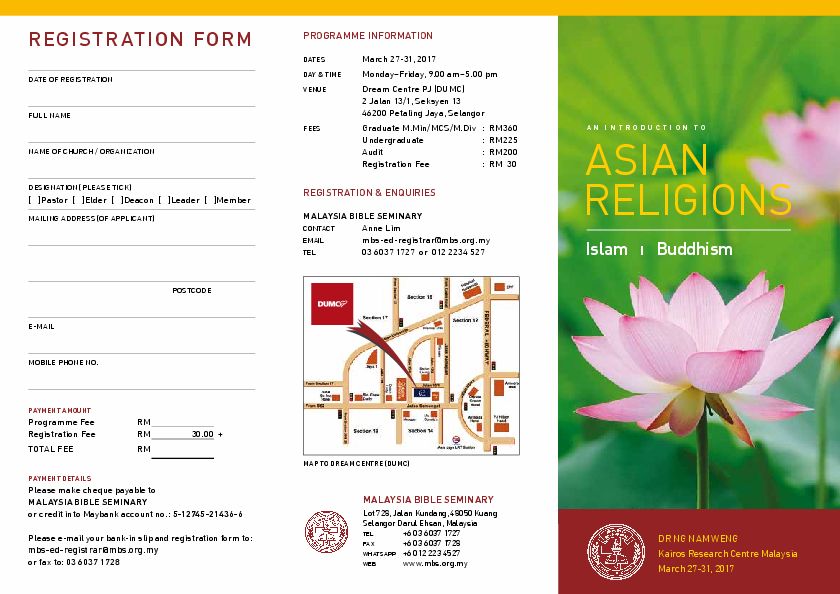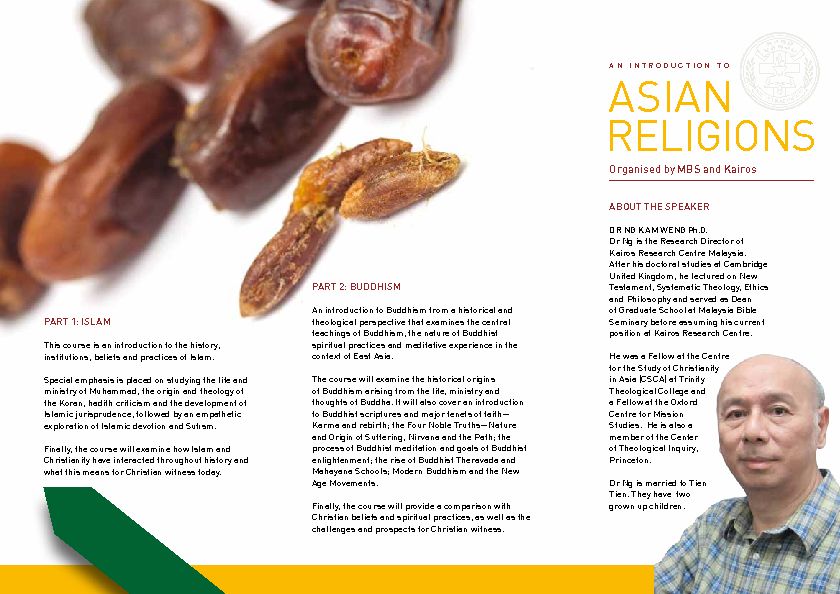 To download the Publicity Brochure on Asian Religions (pdf format):

Asian Religions
COURSE DESCRIPTION
PART 1: ISLAM
This course is an introduction to the history, institutions, beliefs and practices of Islam. Special emphasis is placed on studying the life and ministry of Muhammad, the origin and theology of the Quran, hadith criticism and the development of Islamic jurisprudence, followed by an empathetic exploration of Islamic devotion and Sufsm.
Finally, the course will examine how Islam and Christianity have interacted throughout history and what this means for Christian witness today.
PART 2: BUDDHISM
An introduction to Buddhism from a historical and theological perspective that examines the central teachings of Buddhism, the nature of Buddhist spiritual practices and meditative experience in the context of East Asia.
The course will examine the historical origins of Buddhism arising from the life, ministry and thought of Buddha. It will also cover an introduction to Buddhist scriptures and major tenets of faith—Karma and rebirth; the Four Noble Truths—Nature and Origin of Suffering, Nirvana and the Path; the process of Buddhist meditation and goals of Buddhist enlightenment; the rise of Buddhist Theravada and Mahayana Schools; Modern Buddhism and the New Age Movements.
Finally, the course will provide a comparison with Christian beliefs and spiritual practices, as well as the challenges and prospects for Christian witness.
REGISTRATION & ENQUIRIES
MALAYSIA BIBLE SEMINARY
CONTACT     Anne Lim
EMAIL     mbs-ed-registrar@mbs.org.my
TEL     03 6037 1727 or 012 2234 527