Nowadays, doctrine is not much mentioned in churches. Words like "creeds" and "catechism" are foreign to the vocabulary of church leaders. In the absence of doctrinal teaching, it is not surprising that most Christians no longer understand what they are supposed to believe. Unfortunately, nature abhors vacuum – the consequence is not just doctrinal indifference, but doctrinal perversion. Liberal theology which was vanquished and banished from the Malaysian churches in the early 1980s now finds a ready audience among younger Christians who are not properly taught the faith of their forefathers. It is indeed what the Apostle Paul foresaw when he wrote, "For the time will come when people will not put up with sound doctrine. Instead, to suit their own desires, they will gather around them a great number of teachers to say what their itching ears want to hear." (2Timothy 4:3)
Rather than giving an exhaustive list of new heresy that will one day become new orthodoxy in the Malaysian church, I shall just share the so-called "Apostate's Creed'.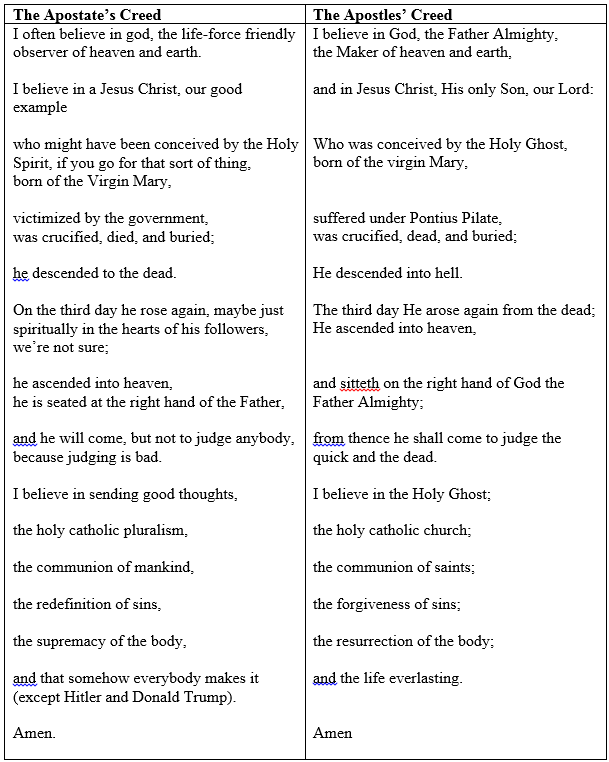 "The Apostate's Creed' was originally published by The Gospel Coalition. Date: 27 June 2017)
It is fun reading the humorous take on the "Apostate's Creed, except for the fact that doctrinal error results in deadly spiritual consequences. More than half a century ago, Martyn Lloyd-Jones (MLJ) sounded the alarm that liberal theology is not just an intellectual aberration; it is a source of spiritual corrosion and apostasy.
MLJ insists that only right doctrine promotes saving faith and obedience. He begins with the classical understanding of what constitutes the Christian church:
"What is the Christian church? That is the question. You cannot discuss church unity unless you are clear in your mind as to what the church is. Now here is the great divide. The ecumenical people put fellowship before doctrine. We are evangelicals; we put doctrine before fellowship."

"What then is this true doctrine?…the Scriptures as the infallible Word of God; our assertion of the unique deity of the Lord Jesus Christ–yes, His virgin birth; the miraculous and supernatural; His atoning, sacrificial, substitutionary death; His literal, physical resurrection; the person of the Holy Spirit and His work. These are the doctrines which are essential to salvation; there is the truth that is to be preached, the message which is the first of the true marks of the church. And a church, surely, is a gathering of people who are in covenant together because they believe these things. Not only do they believe them, but they are men and women who have experienced their power. They are men and women who are born again and born of the Spirit, and who give evidence of this in their daily life. Surely that is the evangelical view of the church." [MLJ, Knowing the Times (Banner of Truth, 1989), p. 252.
MLJ's emphasis on the cruciality of right doctrine needs to be heard afresh as churches today are more interested with practical rather than doctrinal and spiritual aspects of Christianity. "Intellectual lethargy is undoubtedly the greatest sin of many Christians today… We are lazy Christians who do not read, do not think, and do not delve into the mysteries" [MLJ,The Unsearchable Riches of Christ: Exposition of Ephesians 3 (Banner of Truth, 1979), pp. 138, 208)] MLJ concludes, "If I were asked to name the greatest trouble among Christians today, including those who are evangelical, I would say that it is our lack of spirituality and of a true knowledge of God." [MLJ,The Unsearchable Riches of Christ, p. 6]
The consequences are not only intellectual as faith that lacks solid biblical foundations and theological understanding leads to superficiality in worship and moral inconsistency in relationships. For MLJ, there is an inseparable link between doctrine, spiritual experience and Christian obedience. He observes that the New Testament first presents a doctrine and then supplies the word "therefore" to spell out its implications for Christian practice and obedience. That is to say, "The life which we are to live is a life which always results from the application of doctrine." [MLJ, Christian Unity: An Exposition of Ephesians 4:1-16 (Banner of Truth, 1980), p. 17] In technical language, in the New Testament, the "indicative" precedes the "imperative."
For this reason, doctrine is foundational for Christian obedience. "Doctrine must always come first, and we must never reverse this order. It is, I repeat, the invariable practice of the New Testament itself to speak of doctrine before the application of doctrine. We must not act before we are clear about our doctrine. That is, beyond all question, the most vital principle of all in connection with the New Testament doctrine of sanctification" [Christian Unity, p. 17]
Doctrine is not just an intellectual commitment, it is the driving force for Christian sanctification and obedience. It is not the case that we grasp truth so much as it is truth which grasps us. Truth is not only informational, it is transformational. "The way of sanctification, is first and foremost, a full realization of the biblical doctrines…We must see the things to which we have been called, the glorious possibilities that have been opened for us; and the more we see and understand and grasp them the more we shall be ready, and indeed anxious, to work them out in practice…In Scripture doctrine and practice are indivisibly joined together… It is to the extent that we grasp the truth of the doctrine that the desire to be holy is created within us." [Christian Unity, pp. 20, 21]
In short, right doctrine leads to right Christian behavior. Conversely, wrong doctrine leads to wrong Christian behavior. Christian apostasy goes beyond abandoning right "Apostolic" doctrine; it is desertion of the community of faith that ultimately results in rejection of the moral tradition of Christianity.
I end with a paraphrase of Dietrich Bonhoeffer's challenge, ""Only he who believes [rightly] is obedient, and only he who is obedient believes [rightly]."? [Dietrich Bonhoeffer, Cost of Discipleship (MacMillan, 1963), p. 69]
Related Post: Are We Saved by Believing in Right Doctrine?