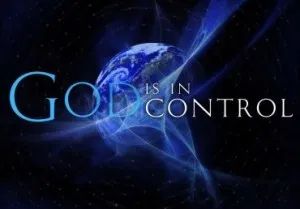 The Psalmist who feels overwhelmed by terrible suffering and injustice brings his lament before God not just to calm his fears and frustrations. No, the remedy he seeks is not therapy. It is deliverance. But surely, the fundamental premise that encourages him to come before God is that God is still in full control of the situation? But is God in control?
Calvinism upholds a God who exercises full sovereignty and absolute control not only over personal circumstances, but over world events and history. He is a God who gives real hope and assurance. To be sure, some Christians continue to experience horrific suffering. But at least, the Calvinist believes that God has a good reason to let that happen. God can even turn evil to good in the long run. As such, Joseph could say to his murderous brothers, "As for you, you meant evil against me, but God meant it for good, to bring it about that many people should be kept alive, as they are today." (Gen. 50:20) Peter told the Jews that God overrode their evil deed of crucifying Jesus to accomplish his plan of salvation. "Jesus of Nazareth, a man attested to you by God with mighty works and wonders and signs that God did through him in your midst, as you yourselves know— this Jesus, delivered up according to the definite plan and foreknowledge of God, you crucified and killed by the hands of lawless men." (Acts 2:22-23)
For the Calvinist, evil may sometimes seem to prevail but God is in control because he is omniscient. With exhaustive foreknowledge, he is able to exercise meticulous providence. In contrast, opponents of Calvinism like Open Theists cannot enjoy such an assurance because the God of Open Theism is not trustworthy. Open Theism says that we are vulnerable to horrific suffering because God cannot fully protect us. God does not possess exhaustive foreknowledge as he cannot know beforehand how human beings with autonomous, libertarian freedom would choose. This means God himself cannot be sure or decide on the best course of action until the human agent has acted.
God may have an overall plan to maximize the 'best' outcome based on educated guesses about the future, but this is not providence as its focus is on the "big picture" rather than the individual welfare. Since he does not have exhaustive foreknowledge, he may even be mistaken. He may be unable to protect your best interest as he may be forced to factor in competing interests of other agents who are not fully in his control. The logical conclusion is that he cannot be a God whom one can absolutely rely on. It would be pointless to bring your lament before him if you cannot be sure of his deliverance. It would be folly to trust in him. In contrast, the Calvinist enjoys firm and unshakeable assurance because his God is absolutely trustworthy.
I am God, and there is none like me, declaring the end from the beginning and from ancient times things not yet done, saying, 'My counsel shall stand, and I will accomplish all my purpose'…I have spoken, and I will bring it to pass; I have purposed, and I will do it. (Isa. 46:10-11)
Related Post: The Limited god of Open Theism is Not the Almighty God of the Bible