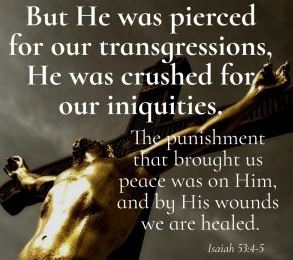 Classical Evangelicalism has always affirmed that the power of the gospel lies in the proclamation that Christ died for the ungodly and made atonement for their sins. "Indeed, under the law almost everything is purified with blood, and without the shedding of blood there is no forgiveness of sins…But when Christ had offered for all time a single sacrifice for sins, he sat down at the right hand of God, waiting from that time until his enemies should be made a footstool for his feet. For by a single offering he has perfected for all time those who are being sanctified." (Hebrews 9:22; 10:12-14) The truth that underlies this proclamation is encapsulated in the phrase, "the penal substitutionary death of Christ."
However, this glorious truth has been challenged by some modern theologians who deny that Christ's death is a penal substitutionary sacrifice for sin. Similarly, the teaching of Christ's atonement becomes distorted when some Charismatics claim that partaking the Lord's Supper brings physical healing because of the blood of Christ shed on the cross.
You are invited to read the careful reading of Isaiah 53 (the locus classical of the doctrine of penal substitutionary death of Christ in the Old Testament) written by Dr. Leong Tien Fock. It will help you gain a better understanding and a grateful appreciation of the glory of Christ's atonement.
Atonement in Isaiah 53 LTF

*Dr Leong Tien Fock has been studying the relevance of the Old Testament to the Church and the world for over 20 years. This has culminated in his recent book entitled Our Reason for Hope: An Exposition of the Old Testament on the Meaning of History. He has a degree in Civil Engineering from the University of Malaya and an M.A. in Old Testament Studies from Wheaton College Graduate School. His masters' thesis is on the interpretation of Ecclesiastes entitled The Realism of Ecclesiastes. He also has an M.A. and a Ph.D. in (ancient) Near Eastern Languages and Cultures from the University of California, Los Angeles. His Ph.D thesis, entitled Tense, Mood and Aspect in Old Babylonian, is a computer-assisted linguistic analysis of the language of Hammurabi.
BONUS: You may download free copies of two books written by Dr. Leong Tien Fock at the links given below: