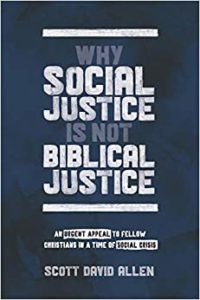 I posted in Facebook some of Tim Challies' observations in his review of Scott David Allen' s book, Why Social Justice is Not Biblical Justice  (Credo House Pub., 2020).
Social Justice Redefined:
Scott David Allen notes the contemporary redefinition of "justice": "Deconstructing traditional systems and structures deemed to be oppressive, and redistributing power and resources from oppressors to their victims in the pursuit of equality of outcome." It is obsessed with power, privilege, oppression, and victimization; it uses pragmatic tactics to cow dissenters into submission; it fixates on identity markers such as class, race, gender, and sexual orientation; it is openly hostile to Judeo-Christian religion; it is militant against the natural family and traditional sexuality; and it focuses on the redistribution of wealth and power by means of a powerful state apparatus…
Scott Allen Contrasts this New Definition with Biblical Justice:
Conformity to God's moral standard as revealed in the Ten Commandments and the Royal Law: "love your neighbor as yourself." [Its two components are:]
Communitive Justice: living in right relationship with God and others; giving people their due as image-bearers of God.
Distributive Justice: impartially rendering judgment, righting wrongs, and meting out punishment for lawbreaking. Reserved for God and God-ordained authorities including parents in the home, elders in the church, teachers in the school, and civil authorities in the state.
A Biblical Response:
Tim Challies agrees with Scott Allen, "Let's not simply be anti-ideological social justice. Let's be probiblical worldview." This requires faithfully preaching the gospel but then also calling Christians into faithfully engaging the culture. "The temptation by opponents of ideological social justice to overreact by pitting evangelism and gospel proclamation against cultural engagement is a grievous error that must be avoided." Thus we must, as did so many of our forebears, fight for justice in this world and defend the victims of injustice. But always we must be careful that we do so according to a biblical, wholistic definition of "justice."
I was asked whether I agree with Tim Challies and Scott Allen who argue that the currently fashionable view of justice which focuses on "equality, diversity and inclusion" championed by "Woke Church" and  Black Lives Matter is not the same as Biblical justice.
In recent years, Christians in other parts of the world have looked to the USA as they seek to develop ways of engaging society, but the USA has lost its moral and spiritual leadership in the light of its current internal political conflicts and social disintegration. Christians are well advised to look elsewhere as they seek to develop their own social theology. After all, there is no one size fits all answer for the issue of social justice. Fortunately, there are global resources that can help us address the complex and contentious issue of social justice.
My understanding of the relationship between evangelism and social responsibility in general reflects the spirit of the Lausanne Movement (see attached document taken from John Stott, The Contemporary Christian (IVP, 1995), pp. 339-341.
Of course, application of the principles drawn from the historic Lausanne Documents will assume specific nuances & priorities as the context requires.
Having clarified that the historic Lausanne documents (insofar as they are consistent with the Bible) serve as the framework for my understanding of evangelism and social concerns (which includes both social ministry and social action), I shall now answer the question about what I think of the controversy about social justice in the USA.
First, every social justice movement has its distinctive goals. For convenience, let's consider Black Lives Matter (BLM) since it is arguably the most prominent social justice movement in USA today. The question is, "What is BLM's view on social justice?"
The official position of BLM on justice given in its website says, "We affirm the lives of Black queer and trans folks, disabled folks, undocumented folks, folks with records, women, and all Black lives along the gender spectrum. Our network centers those who have been marginalized within Black liberation movements."
The current statement is different from the earlier BLM statement (which has been mysteriously scrubbed, but we can still locate it using the Internet Archive WayBackMachine). The former statement says, "We disrupt the Western-prescribed nuclear family structure requirement by supporting each other as extended families and "villages" that collectively care for one another, especially our children, to the degree that mothers, parents, and children are comfortable. We foster a queer-affirming network. When we gather, we do with the intention of freeing ourselves from the tight grip of heteronormative thinking, or rather, the belief that all in the world are heterosexual (unless/he or they disclose otherwise)."
The two statements may seem different – but the phrase in the new statement, "all Black lives along the gender spectrum" covers much of the LGBTQ groups explicitly mentioned in the older statement. However, the sanitized new phrase of the gender spectrum remains inconsistent with the traditional/biblical affirmation of the heterosexual family unit. I leave it to the readers to judge for themselves whether the BLM agenda is consistent with biblical moral values and social justice– with due acknowledgment that understanding of biblical justice assumes different nuances as can be seen in the writings of Wayne Grudem to Walter Bruggemann.
Second, it should be noted that BLM adopts intersectionality in defining its agenda of social justice. Intersectionality provides BLM a shrewd strategy to counter any criticism. For example, BLM lumps together LGBTQ and disabled folks and women rights. As such, when one critiques BLM (because of its LGBTQ agenda), BLM supporters protest that one is against disabled folks and women rights (which is ridiculous).
How then can one direct relevant and effective criticism at an ever growing (inclusive) amorphous blob? Personally, I refuse to engage BLM on its own terms (intersectionality). My critique of its social justice agenda will first uncouple the components of its intersectionality, followed by an answer of "Both Yes and No."
Third, readers may refer to the excellent research paper published by Georgetown University – The Fight for Black Lives is a Spiritual Movement which describes the spiritual underpinnings of BLM that originate from West African tribal religion system of faith, divination and worship. In the light of these spiritual underpinnings, the readers can judge for themselves whether the social justice agenda of BLM is compatible with biblical justice.
Finally, I agree with the view expressed by people who support the struggle for better justice for the black community in USA, but feel uneasy about BLM recent turn to rioting – "We support blm (as a proper agenda of social justice) but not BLM (as a movement)."
---
11.00 am, 26/12/2020 – Additional comments arising from a discussion with a friend over Facebook:
First, any final judgment on BLM will need to be based on a more comprehensive reading of the movement which includes engaging with its theoretical framework, its spiritual underpinings, its social program and its actions on the ground. (a) Regarding theoretical framework. We should take a critical look at the ideological foundations of BLM based on its Critical Race Theory. I was quite sympathetic towards Critical Theory (Habermas & Frankfurt School) when I studied it years ago, but I find myself disagreeing with its present American adaptation. (b) On spiritual underpinings – everyone should take a closer look at what BLM publicly proclaims and what it fundamentally affirms, based on its spirituality. After all, our social values are ultimately shaped by our spirituality (c) I find the violent riots promoted by BLM rather disturbing. The violent actions of BLM certainly affect my judgment on the movement.