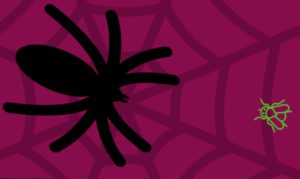 Will you Walk into my Parlour? Said the Spider to the Fly
PAS is exploiting its new-found powers in the Federal government to table a new bill on control and restrictions on the development of non-Muslim religions. A major element of PAS new legal initiative is the RU355 which was temporarily shelved in 2017 after it met strong opposition from critics who argued that the bill would make Hudud which is a state-enacted law under the the Federal Constitution become Federal criminal law. As Federal law, Hudud will be applied to all citizens regardless of their religious affiliation. To be sure, Muslim politicians and justices have assured non-Muslims that they have nothing to fear, only to say in their next breath that Hudud must be applicable to both Muslims and non-Muslims. Anyone who accepts their facile assurances should remember the classic children poem, "The Spider and the Fly" by Mary Howitt (1829).
Will you walk into my parlour?" said the Spider to the Fly,
'Tis the prettiest little parlour that ever you did spy;
The way into my parlour is up a winding stair,
And I've a many curious things to shew when you are there."
Oh no, no," said the little Fly, "to ask me is in vain,
For who goes up your winding stair can ne'er come down again."
"I'm sure you must be weary, dear, with soaring up so high;
Will you rest upon my little bed?" said the Spider to the Fly.
"There are pretty curtains drawn around; the sheets are fine and thin,
And if you like to rest awhile, I'll snugly tuck you in!"
Oh no, no," said the little Fly, "for I've often heard it said,
They never, never wake again, who sleep upon your bed!"
[only 2 out of 7 stanzas reproduced here]
——————————————————-
[The materials below were first posted on 10 Feb 2017]
Related Post: Kelantan Salons Ordered To Remove Posters of 'Sexy' Hair Models
UMNO will be lending a helping hand to PAS to push a Bill through Parliament which would amend the Shariah Courts (Criminal Jurisdiction) Act 1965, also known as Act 355. The amendments would extend power to the Islamic courts to enforce heavier punishment for Islamic offences. PAS President Abdul Hadi Awang and UMNO leaders assure non-Muslims that the proposed amendments will not affect non-Muslims. Re: Hadi to Make More Amendments to Shariah Bill] [FMT 23 Nov 2016]
Non-Muslims are naturally skeptical towards the assurances from PAS and UMNO. Both the local and international media have sounded the alarm that the amendments would encourage further imposition of Islamic regulations onto non-Muslims.
Re:The  Amendment to Shariah Courts Act, Why the Brouhaha?  [Malaysian Chinese News 13 June 2016]
Many people especially Muslims may ask, why the brouhaha among the non-Muslims and the threatening of resignation by ministers in light of the Bill merely seeks to amend an Act. As we know, the Shariah Courts adopt the "3-6-5" principle in which the punishment are currently limited to jail terms not exceeding three years, or whipping of not more than six strokes, or fines of not more than RM5,000.
Now that Hadi wishes to amend the Act 355 which is to abolish the 3-5-6 principle so that all laws are conforming to Shariah law including unlimited stroke of whipping, stoning to death and amputation. Hadi's Bill has even made it clear that except for decapitation (death penalty), all Shariah penalties can be executed. In another word, to be in full compliance with Shariah law, so if this is not hudud then what is it? Of course this is hudud of which we are worried about.

The Kelantan Shariah Criminal Code (II) (2015) (Amendment) will be passed in Kelantan state legislative assembly if the said Bill is passed in Parliament to enable hudud to be implemented in Kelantan. When Shariah Penal Code is officially implemented, this will evolve into a complex legal issue and Malaysia will have two systems in one country which is clearly in violation against Article 8 of the Federal Constitution.
The reality is that the Civil services and shariah authorities have periodically taken the liberty to impose Islamic scruples and regulations onto non-Muslims, even though they are technically not empowered to do so. Having been victimized by 'over-zealous' officials from both the Civil services and shariah authorities (who are never taken to task for their abuse of power), non-Muslims can only regard the assurance from Hadi and UMNO leaders to be both hollow and disingenuous.
It is sobering to recall some of these alarming incidents.
A. NON-MUSLIM COUPLE CHARGED IN COURT FOR HOLDING HANDS IN A PARK
Re: Drop Charges Against Couple in the Park, DBKL Told [The Star 9 June 2004] PETALING JAYA: The Bar Council is urging the Kuala Lumpur City Hall (DBKL) to withdraw the charges against a young couple for hugging and kissing in a park last year.
Chairman Kuthubul Zaman Bukhari said the council was "amazed that hugging and kissing can be termed disorderly conduct." He said DBKL officers should not waste ratepayers' money to uphold their subjective concept of morality…He was commenting on the case of student Ooi Kean Tong who was charged in the City Hall magistrate's court on April 21 with hugging and kissing his girlfriend Siow Ai Wei at the KLCC park at 5.20pm on Aug 2.
Read also: 'Mind Your Own business', Let's Hug and Kiss. [The Sun 14 April 2006]
Suara Rakyat Malaysia secretariat member, Cynthia Gabriel: "There really is no need to regulate moral behaviour, as long as it does not offend the public. This matter is very subjective — what may be offensive to one may not be offensive to someone else."

Women's Aid Organisation, executive director Ivy Josiah:"The Penal Code should suffice; beyond that, it's relative. It's a bad move to start attempting to define indecent behaviour, it's the first dangerous step down the slippery road to draconion laws and a police state. Such laws are an infringement of human rights. How we conduct ourselves with our loved ones is our right to define."
B. ISLAMIC DRESS CODE IMPOSED ON NON-MUSLIMS: The Spectre of Sarong-gate
JPJ Posts Dress Code Requirements Online – Take Note Before Going to JPJ to Avoid Another Saronggate [Paul Tan. 8 June 2015]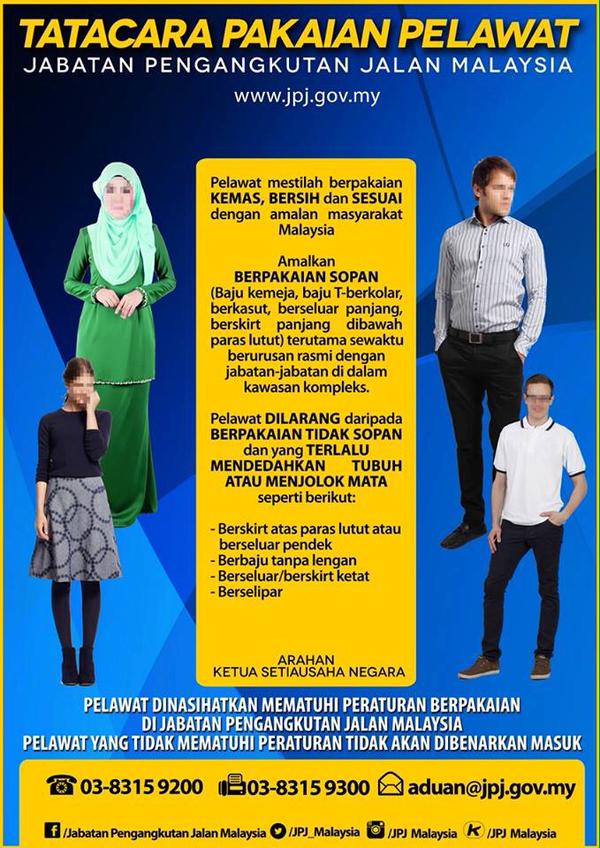 If you have to visit JPJ's offices for whatever reason like transferring your car's ownership, renew your driving license or renew your driving license, you'll want to take note of this. JPJ has just uploaded an image to their Facebook fan page detailing the dress code that you have to adhere to when visiting their premises.
This is an obvious response to a post uploaded by a disgruntled lady who was refused service at JPJ because of her clothing. She was handed a sarong to wear before the JPJ officers would attend to her.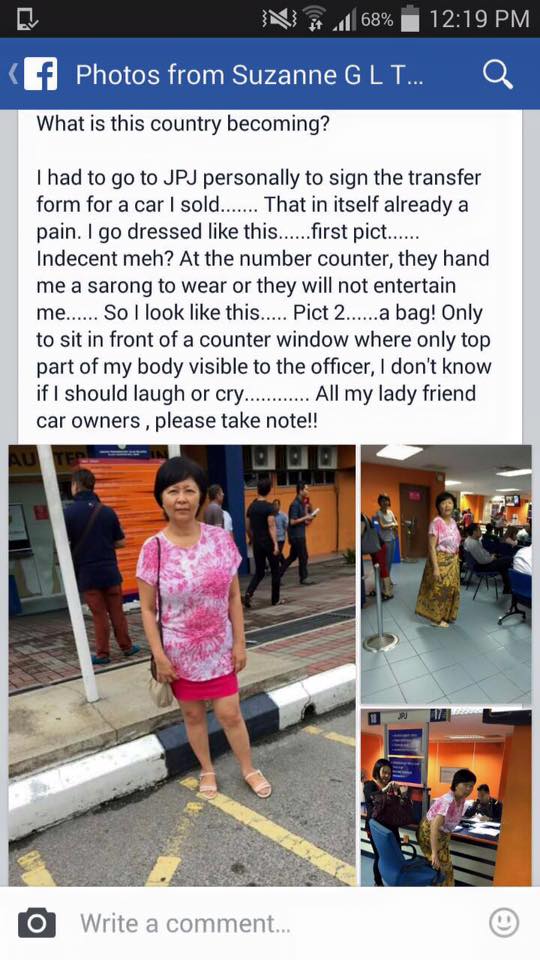 C. TRADITIONAL NON-MUSLIM FOOD STIGMATIZED AND VENDORS QUARANTINED
Non-Muslims are told that their beloved cuisine can be offensive to sensitive Muslims. The logic of preventing extra-sensitive Muslim from getting offended would be eventual quarantine for non-halal food vendors (this is already enforced for pork sellers to be relocated to out-of-sight in some walled-off, obscure corners in some markets). Non-Muslims cannot help but be plagued by a foreboding sense of eventual religious apartheid.
Example: Pretzel Dog and Root Beer Must be Renamed to avoid Confusing & Offending Muslims.
1. Rename 'Pretzel Dog' to 'Pretzel Sausage', Jakim tells Auntie Anne' [The Star18 Oct 2016]
PETALING JAYA: The Malaysian Islamic Development Department (Jakim) has recommended that pretzel store franchise Auntie Anne's change the name of its "Pretzel Dog" to "Pretzel Sausage" in order to receive a halal certification.  "It is more appropriate to use the name 'Pretzel Sausage'," said Jakim's Halal Division director Sirajuddin Suhaimee…Auntie Anne's Quality Assurance (QA) and Halal executive Farhatul Kamilah explained in a Facebook post on Monday that a halal application had been rejected due to the "hot dog" name and technical issues.  Jakim wanted Aunty Anne's to rename the food product and reapply for the halal certification for its outlets based on zones to facilitate the auditing process.
See also: A Sad Day When Logic Goes to the Dogs [FMT 18 Oct 2016]
If Pretzel Dogs and Root Beer can be confused by Muslims as being non-halal, pray tell what other food and beverages will face the same fate too. After eons of ordering "Hot Dog satu, adik!" from roadside stalls manned by Malays, it's mind boggling how Pretzel Dogs can be confused all of a sudden as dog meat, mixed into dough, twisted and baked for human consumption by a trusted and well-loved international pretzel chain. Yet, that is precisely what the Malaysian Islamic Development Department (Jakim) was concerned over when they refused halal certification for Auntie Anne's recently.
Back in 2009, the much-loved A&W Root Beer was dealt a deadly blow when Jakim refused to certify any product with the word "beer" in its name, even if it was non-alcoholic. Yes, we do know beer, which is an alcoholic beverage, is prohibited in Islam, but we also do know there is no alcohol in Root Beer. All the same, the popular drink was renamed "A&W Sarsaparilla" so its halal certificate could be renewed…
The same fate befell good old Ginger Beer sold in cans that also underwent a name change to "Ginger Ade" (we've heard of ale, but ade?) so that the word "beer" could be obliterated, effectively putting an end to any confusion regarding its halal status…
Already, a string of movies have faced the ban in our cinemas, simply because its posters either featured a pig, or its storyline dealt with God or his prophets, who took on a human form.
In 1995, the movie Babe, essentially a feel-good movie targeted to families with kids, was banned because it featured the antics of a pig, and the very word "Babe" could be easily mispronounced in Malay as "Babi", meaning well… err… pig, an animal prohibited for consumption in Islam. I hope Miss Piggy too does not feel slighted that she has been downgraded to non-halal status.
In 2014, the movie Noah was banned on grounds it went against the prohibition in Islam to visually depict Muslim prophets.
2. Christian Literature is Regarded as non-halal and Liable to Seizure.
Christian Children Books Seized [Malaysiakini 11 January 2008]
The Internal Security Ministry has confiscated English language Christian children's books said to contain offensive caricatures of prophets from several bookshops in three states. Malaysiakini learnt that these books have been seized from three MPH bookstores in Johor Bahru, Senawang in Negeri Sembilan and Ipoh, Perak. It is unclear if other book retailers have had similar raids.

The raids were conducted by state enforcement officials of the Publications and Al-Quran Texts Control Department under the Internal Security Ministry. Negeri Sembilan and Malacca department director Faizah Nor Sidek confirmed that a total of 29 books were seized in mid-December from the Senawang MPH outlet. According to Faizah, her department acted on a complaint from Islamic authorities. "The illustrations of prophets in the Christian children's books are said to offend the sensitivities of Muslims," she said when contacted today… Director of the Perak department Mohamad Zaid also confirmed that more than 10 books have been taken off the shelves in the Ipoh Kinta City branch on Jan 3.
Such high-handedness, along with the infamous seizure of the Malay Bible have reinforced the perception that Christian literature is regarded as non-halal by the authorities. The consequence is that book sellers are fearful of displaying the Malay Bible, especially if their shops are in the shopping malls. Christians may procure the Malay Bible only through a handful of approved outlets elsewhere.
D . TRADERS MUST LABEL NON-HALAL PRODUCTS TO AVOID CONFUSING MUSLIMS
And now for the latest incident in the string of harassment directed towards non-Muslim traders:
84 Pig Bristle Paintbrushes Seized in Taiping [MalayMail Online 2 Feb 2017]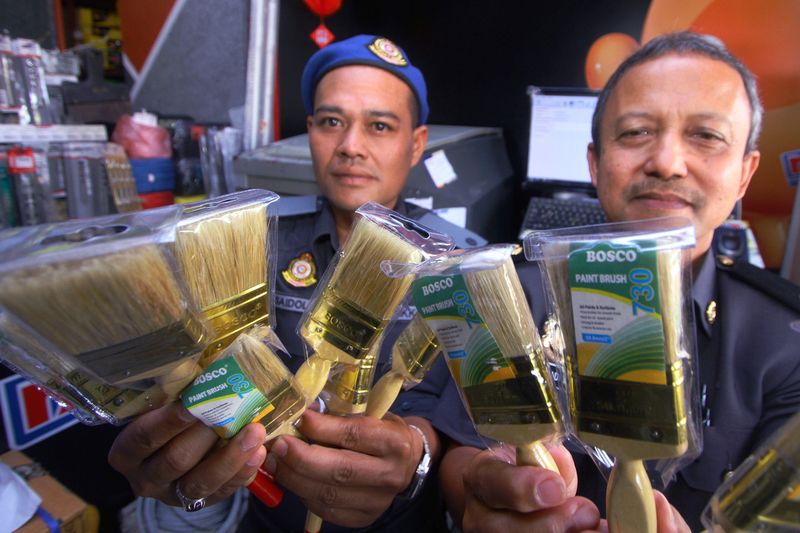 TAIPING, Feb 8 — The Taiping office of the Domestic Trade, Co-operatives and Consumerism Ministry (KPDNKK) seized 84 paintbrushes believed to be made from pig bristles during raids at three hardware stores yesterday. Its chief, Mohamad Kamarol Mat Nor said the premises were found to have been selling the various types of brushes without being labelled or separated…Mohamad Kamarol said the traders must label and keep such products separately to avoid confusion among Muslim consumers.
———
It seems to be the case that  Civil and Shariah authorities have no respect for the privacy and private morality of non-Muslims when they violate their Constitutional rights. We fear that such violations will become increasingly blatant should Parliament pass the Bill to enhance the scope and power of the Shariah Courts.
To repeat, the assurance from Hadi Awang and UMNO leaders can only be seen to be disingenuous.
Shariah Law as no Consequences on Non-Muslims? HUMBUG (HAM-BAK).
A Clarion Call – Safeguard the National Constitution
After saying so much, it looks like Shariah Penal Code is only applicable to Muslims, so what will be the implication of hudud on non-Muslims? If a criminal is Muslim and the victim is non-Muslim, then should the case be referred to civil court or Shariah court? Is non-Muslim allowed to testify in Shariah court? Furthermore, if non-Muslim is unable to get a Muslim as witness (in the case involved adultery and sodomy, four Muslim witnesses are required to testify), does it mean that the non-Muslim has nowhere to lodge complaint and therefore is unable to seek judicial redress? In turn, Muslim who committed crime is facing with penalty such as amputation and stoning, whereas non-Muslim criminal only facing jail term and fine, is it fair from the view of humanism?

The Shariah Penal Code will affect every aspect of all the people irrespective of Muslim or non-Muslim in the country, have certain restriction and become a legal issue. We must respect and safeguard National Constitution as the constitution is the social contract made by the founders of the nation before Merdeka, and also due to its existence that we are able to live together peacefully in this diversified country. Thus, we must safeguard the integrity of the Federal Constitution.
*Every God-fearing and responsible citizen must call up their member of Parliament and insist that they vote against the forthcoming bill in Parliament.
Related Articles:
From Religious Liberty Watch:
Be Assured that Syariah Law WILL be Imposed on non-Muslims
Shop selling beauty products in Malaysia mall fined for displaying 'indecent' posters
THE STRAITS TIMES 27 July 2016
Woman Not Wearing Tudung Considered Indecent: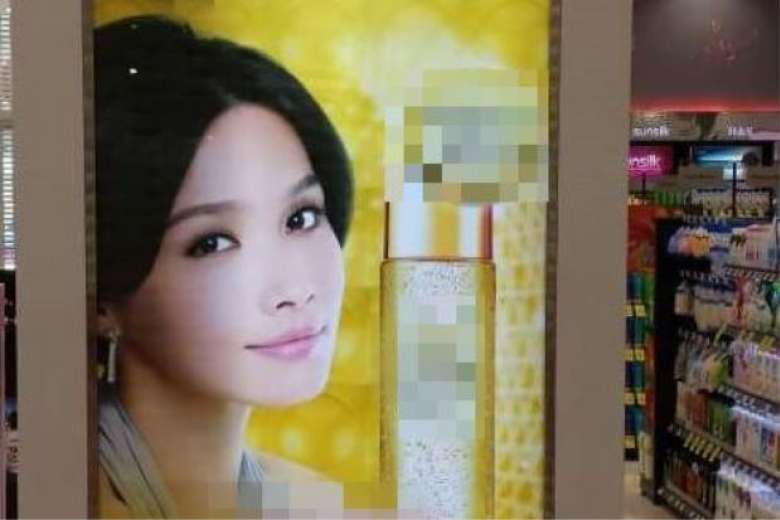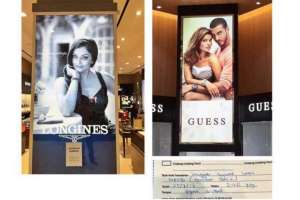 To read the full post: Shop Selling Beauty Products in Malaysia Mall Fined for Displaying 'Indecent' Posters
Related News: Kelantan Salons Ordered To Remove Posters of 'Sexy' Hair Models
Kota Bharu Municipal Council gave verbal warnings to salon operators to take down the "sexy" posters
Hair salon operators here are fuming following verbal warnings from the Kota Baru Municipal Council to remove posters featuring models who did not cover their heads (tutup aurat).
One salon operator, who only wanted to be known as Ong, said they had been told by enforcement officers that the posters placed in front of their salons were deemed "too sexy"
To read the full post: Kelantan Salons Ordered to Remove Posters of 'Sexy' Hair Models
——————
Added on 10 Feb 2017:
Archaic Jurisprudence Behind Swine Kerfuffle, says Preacher [MalayMail Online 9 Feb 2017]
KUALA LUMPUR, Feb 9 ? Swine products are only "haram", or forbidden, when ingested, according to all Muslim schools of jurisprudence except for the Shafie school widely practised in Malaysia, independent preacher Wan Ji Wan Hussin said today.
The PKR Islamic Council leader said "archaic jurisprudence" has resulted in the sensitivity regarding the issue, and that it would never have happened if there was more openness in interpreting Islamic laws.
"All school of jurisprudence except Shafie states that pigs are only haram when eaten. When touched, not haram," Wan Ji said in a public post on his Facebook profile.
"This thing became sensitive, only because of the archaicness of jurisprudence. Therefore, the issue of swine leather shoes is not an issue in societies with jurisprudence openness. The ones where it is sensitive, is with societies that are archaic in jurisprudence."
Muslims are strictly forbidden from eating pork and products derived from pork, with the origin coming from a Quranic verse 2:173 which prohibits "dead animals, blood, the flesh of swine, and that which has been dedicated to other than Allah".
The same verse states that there is no sin for those who do so when forced by necessity…
"My reminder is for Malaysia to not play sentiments on these issues. Instead, they have to educate the society on the openness, not the archaicness, of jurisprudence," said Wan Ji.
"Parties who brought this issue up, I remind them that their actions will cause non-Muslims to hate Islam, they will be cynical towards Islam."
National news agency Bernama reported Tuesday Domestic Trade, Cooperatives and Consumerism Minister Datuk Seri Hamzah Zainudin saying that his ministry seized 2,003 paintbrushes made with pig bristles worth almost RM11,000 in a nationwide "crackdown".
He reportedly said the brushes were confiscated under the Trade Descriptions (Goods Made from any Part of Pig or Dog) Order 2013, which states that such products must be labelled and separated from other goods.
Punishments for violations of the minister's order are RM100,000 fines, three years' jail or both for individuals, while corporations face fines of up to RM250,000.
Subsequently, Muslim Consumer Association of Malaysia (PPIM) called for a logo to differentiate items containing pig-derived parts to inform the "not that smart" Muslim consumers.
– See more at Archaic Jurisprudence Behind Swine Kerfuffle, says Preacher [MalayMail Online 10 Feb 2017]
—————————————————
Added on 18 April 2017
Non-Muslims Must Abide by Kelantan's Maghrib Shutdown
Aedi Asri  | April 17, 2017
The PAS-led Kelantan government says the policy will allow non-Muslims to take a break while Muslims observe the dusk prayer.
[Comment: Please-lah, don't take non-Muslims to be fools. This pretense at helping non-Muslims take a break is nothing more than an attempt to whitewash an imposition of Islam onto non-Muslims. If non-Muslims want to take a break, it is on their own free will at a time of their choosing, and not on terms imposed by an Islamic policy. Who says shariah has no consequences on non-Muslims?]

KUALA LUMPUR: The Kelantan state government says a policy requiring traders to stop their activities during the Maghrib prayers also applies to non-Muslims.
"They don't need to cease operations for long, it's just for 10 minutes," state local government, housing and sports committee chairman Abdul Fattah Mahmood told FMT.
He said businesses must stop their activities when the azan (call to prayer) is called.
"They can resume once prayers are done," he said.
Fattah said the policy, currently enforced at the main night markets under municipal councils in the state, would ensure Muslim traders and customers perform their prayers, adding that non-Muslim traders could also enjoy a short break.
The policy, first introduced by MPKB, was expanded last year to include the rest of the state.
Fattah recently warned stall operators at night markets to pause their business for 15 minutes or risk getting their licences suspended.
He said visitors, including foreigners, had praised the policy.
In 2015, MPKB implemented a similar rule in 2015, telling supermarkets and hypermarkets to close during Friday prayers.
———————————————
Cover up to 'Respect' Muslims, Mufti Tells non-Muslims in Dress Code Rows
BY Kamles Kumar – Malaymail Online June 28, 2015
KUALA LUMPUR, June 28 ― Non-Muslims should dress more "appropriately" in public places out of "respect" for Muslims who will sin upon seeing people, including non-Muslims, who do not cover their "aurat", Perak Mufti Tan Sri Harussani Zakaria said amid the controversy surrounding conservative dress codes enforced at government departments.
"Even when we wear properly but we see other people who show their 'aurat', it is haram," Harussani told Malay Mail Online yesterday.
"They should show respect for Muslims and dress more appropriately; they cannot be showing their thighs. It is not wrong for them to dress how they like, but they must be considerate because when we bump into them at public places and see this, it is considered haram for us (Muslims)," the conservative cleric added.
Harussani said Malaysians should be more open to the idea of non-Muslims dressing "appropriately" as Malaysia is seen as an "Islamic role model country".
Harussani was commenting on the recent spate of controversies where non-Muslim women were stopped from entering public institutions such as a Penang courthouse, a Road Transport Department (RTD) office, the Selangor state secretariat, and even a public hospital for wearing knee-length skirts and shorts that were deemed indecent.
Some security personnel from the government departments even handed towels and sarongs to the women to cover up their legs in order to gain entry.
While most of the dress code controversies involved women, an ethnic Chinese man was forced last month to don long trousers to enter the Kuala Lumpur International Airport's (KLIA) Baggage Services Lost and Found section after airport security told him his knee-length shorts were inappropriate.
According to mainstream Islamic teachings, a woman's "aurat" is defined as the whole body, except for the face and palms, while for men, it is the part between the navel and knees.
Harussani's comment that non-Muslims should "respect" Muslims with their dressing mirrors the remarks made by a Muslim teacher at a Kedah school who had recently told non-Muslim students not to drink in front of Muslim students during Ramadan.
News portal Malaysiakini also reported Tuesday Deputy Education Minister Mary Yap as saying that out of "respect" for Muslims, non-Muslims should avoid eating or drinking in front of them during the fasting month.
————————————————-
Kulim District Office Orders Removal of Statues
The Sun Daily 11 August 2017
A Statue of a winged woman being removed from the MBI Desaku Park in Padang Meha, Kulim Kedah on 9 Aug 2017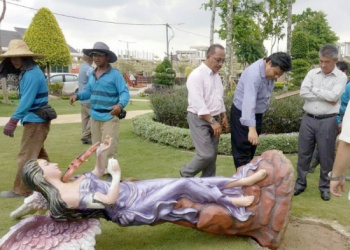 KULIM: The Kulim District Office has given Sept 30 as deadline for the ECK Sdn Bhd to remove 20 statues described as inappropriate from a Bali-themed park at Taman MBI Desaku in Padang Meha here.
Kulim district officer and administrator Mohamad Che Nai said the decision was taken following a meeting yesterday on the removal of several statues, including those of deities erected in the park.
"We have also instructed the developer to provide the district office with a written list of the statues and new ones which they plan to build for submission to the state mufti for consideration on its suitability," he told reporters after attending the opening ceremony for the construction of Jalan Kubur Lama in Kampung Ujung Padang, Masjid Guar Lobak near here today.
The event, launched by Kedah Religious Affairs, Tourism, Heritage and Public Works Committee chairman Datuk Mohd Rawi Abd Hamid was attended by 100 residents.
Last Tuesday, the district office ordered the closure of the theme park and removal of two female-winged statues following complaints lodged by netizens who were uncomfortable with the display of god-like figures there.
The unique park developed by the company had attracted visitors with display of more than 30 figures and sculptures of numerous sizes such as characters like Optimus Prime from Transformers, Spiderman and Snow White. — Bernama
Comment: It is a Bali-theme park –  a tourist/entertainment park and not a religious theme park. The construction company never pretended it to be anything else.   So now we need to get the permission of the mufti even when we are building statues in private park? Shouldn't be surprised since even churches have been asked to get the consent of local Islamic officials when they renovate their churches. Why do Christians have to get consent from Islamic officials in managing Christian house of worship?
—————————–
Added on 28 Feb 2018 – Meanwhile, we have a foretaste of how Shariah law will impact non-Muslims  in Acheh:
Two Christians are flogged in Indonesia for playing a children's game that violates Islamic law
Five people were publicly flogged in Banda Aceh province, Indonesia, for violating Muslim sharia law. They included two Christian Indonesians who were convicted of gambling for playing a children's game. Some 300 people jeered as Dahlan Silitonga, 61, and Tjia Nyuk Hwa, 45, were flogged outside a mosque.
Two Indonesian Christians were publicly flogged in Banda Aceh province on Tuesday for playing a children's entertainment game.
The game is seen by authorities in the conservative Muslim province as 'gambling' and therefore it violates Islamic Sharia law.
Some 300 people jeered and held up their mobile phones to record when Dahlan Silitonga, 61, and Tjia Nyuk Hwa, 45, were flogged six and seven times respectively.
The pair had been arrested along with a third man for playing a game at a children's entertainment complex that lets users exchange coins for prizes or vouchers, including cash.
They were among five people – including a couple whipped two dozen times each for showing affection in public – receiving between six and 24 lashes with a rattan stick.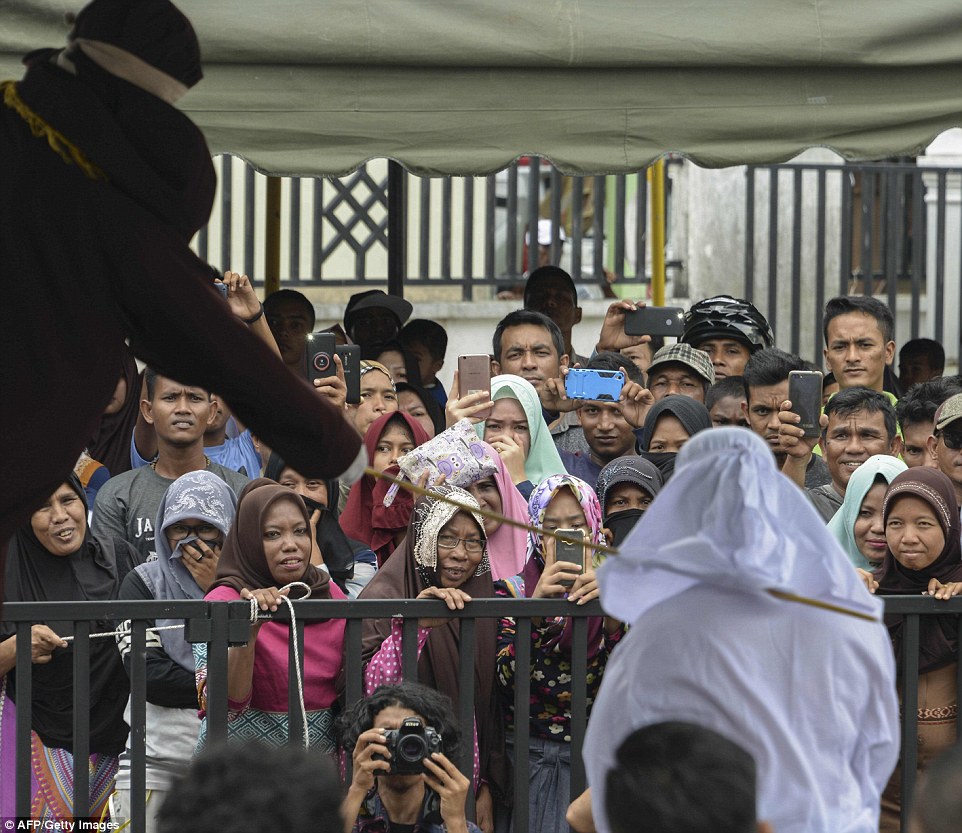 Shocking: Spectators are pulling amused faces, while others seem visibly uncomfortable as Tjia Nyuk Hwa is lashed
Banda Aceh is the only province Indonesia that imposes sharia law and people can be flogged for a range of offences; from gambling, to drinking alcohol to having gay sex or relations outside of marriage.
Hundreds of spectators, including some two dozen tourists from neighbouring Malaysia, jeered as they group were whipped on a makeshift stage outside a mosque.
'You are old, show remorse,' the crowd screamed.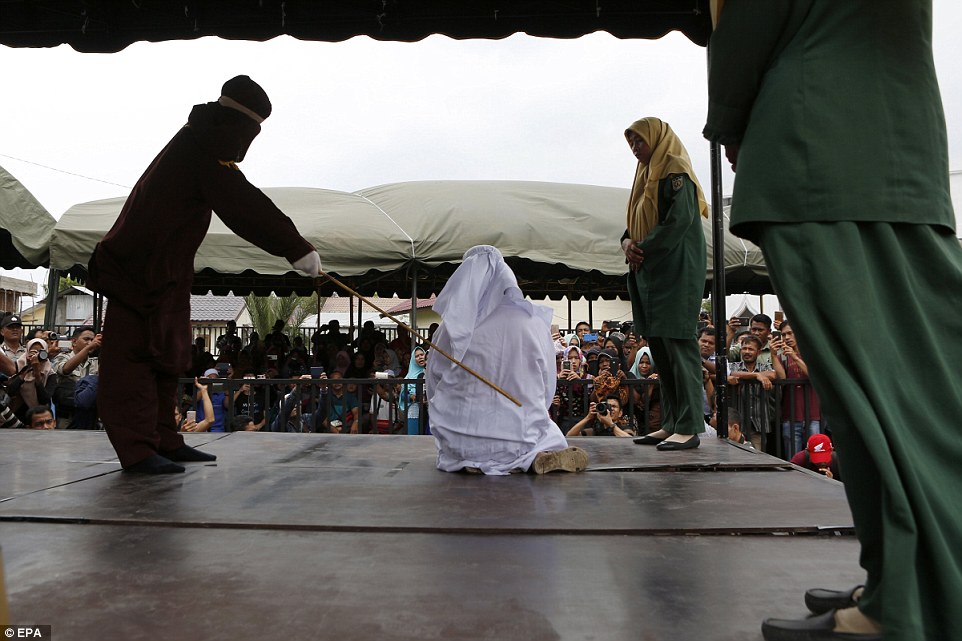 Rock and a hard place: Christians and other non-Muslims sometimes choose prosecution under sharia law and take a flogging to avoid a lengthy court process and potential jail term
Non-Muslim Tjia Nyuk Hwa tried to hide her face in a specially provided white cloak with head-covering hijab.
'This is to create a deterrent effect, in order for people not to repeat violations of Islamic sharia law,' Banda Aceh's mayor Aminullah Usman said.
'We purposely do it in front of the public… so it won't happen again.'
The two Christians are among just a handful of non-Muslims to be punished under Aceh's strict religious law since it was adopted in 2001 as part of a deal with the central government to end a long-running insurgency.
In January, an Indonesian Christian was flogged for selling alcohol in the province at the tip of Sumatra island, which made headlines recently after local police publicly humiliated a group of transgender women.
About 98 per cent of Aceh's five million residents are Muslims subject to religious law.
Non-Muslims who have committed an offence that violates both national and religious laws can choose to be prosecuted under either system.
Christians and other non-Muslims sometimes choose a flogging to avoid a lengthy court process and jail term.
To read the full post with more photos of the event:Two Christians are flogged in Indonesia for playing a children's game that violates Islamic law