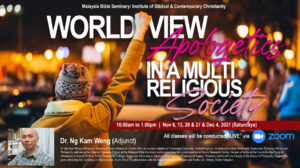 * To register please click on LINK
This course will help students formulate a rational basis for believing in Christian theism expressed as a coherent worldview, followed by a comparison of the strengths and weaknesses of competing worldviews such as Naturalism, Islam and Buddhism.
Next, the course shall explore some of the crucial issues in the debate between Christians and non-Christians: the existence of God, the deity of Jesus Christ, evidence for the truth of the Bible in relation to history and science, the uniqueness of Christ and his salvation in the context of religious pluralism.
Course Outline: 3 hours each topic.
I. Contours of a Christian worldview
1) Worldviews and religious truth claims.
2) The existence and nature of God.
II. Comparing worldviews
3) Islam and its challenge to the reliability of the Bible and the divinity of Christ.
4) Buddhism and the Christian view of man and salvation.
5) Science and Christian belief: Scientific naturalism and the historical Adam and Eve.
Suggested Reading
-James Sire, The Universe Next Door 6e (IVP, 2020).
-Ronald Nash, Worldviews in Conflict (Zondervan, 1992).

Additional References (for M.C.S. students taking the class for credit)
– Tawa Anderson, Michael Clark & David Naugle, An Introduction to Christian Worldview: Pursuing God's Perspective in a Pluralistic World (IVP, 2017).
– Peter Kreeft and Ronald Tacelli, Handbook of Christian Apologetics (IVP, 1994).
– Chad Meister, Building Belief: Constructing Faith from Ground Up (Baker Books, 2006).
– Timothy Tennent, Christianity at the Religious Roundtable (Baker, 2002).
Note: Additional reading and written assignments will be required if the course is taken for credit.
Link to Registration – https://bit.ly/3maffYl
For further information please contact:
Malaysia Bible Seminary
Lot 728, Jalan Kundang,
48050 Kuang, Selangor Darul Ehsan,
Malaysia
Tel: 60-3-60371727
Fax: 60-3-60371728
Mobile Phone/Whatsapp: 011-1030 1727
Off-Campus Programmes #125 Pastor Adelain Lum mbs-ed-registrar@mbs.org.my