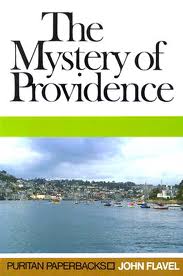 The doctrine of the providence of God assures believers that the Lord is sovereign over the circumstances of their lives. Indeed, "The Church is His special care and charge. He rules the world for its good, as a head consulting the welfare of the body." (John Flavel)
Meditation on God's providence will foster both gratitude and fortitude in believers. Flavel in his classic book, The Mystery of Providence demonstrates how the Reformed doctrine of providence provides practical advice on how believers may grow in sanctification and enjoy the peace of God through times of affliction (excerpts given below).
————————-
APPLICATION OF THE DOCTRINE OF PROVIDENCE
How may a Christian discover the will of God and his own duty under dark and doubtful providences?
In order to answer this question we must consider what is meant by the will of God and what by those doubtful providences that make the discovery of His will difficult and what rules are to be observed for ascertaining God's will for us under such difficult and puzzling providences.
How may a Christian be supported in waiting upon God, while Providence delays the performance of the mercies to him for which he has long prayed and waited?
It is supposed in this case that Providence may linger and delay the performance of those mercies to us that we have long waited and prayed for, and that during that delay and suspense our hearts and hopes may be very low and ready to fail. Continue reading "Finding God's Peace in Times of Afflictive Providence (Covid-19 Crisis)"