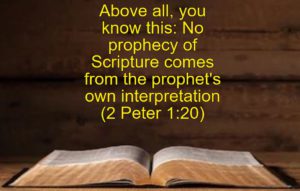 Prophecy in this post does not refer to predictions of future events. It is (1) the speaking forth of what the Holy Spirit has spontaneously brought to the mind, (2) with the purpose of edifying, encouraging and comforting God's people (1 Cor.14:3). It is noted that there is no succession of apostolic and prophetic office since the closing of the biblical canon (Eph. 2:20). While Christians should be open to occasions when the Spirit gives a prophetic word to guide the church, nevertheless, there should be no institutionalization of prophetic office today. Believers, especially leaders who exercise authority are profoundly aware of human fallibility. As such, the sharing of any prophetic word must be subject to the supervision of local church leaders (elders in the New Testament) and all prophetic claims must be tested by Scripture.
Hence,
1) Prophecy must be submitted to the congregation for testing in order that the congregation may collectively discern the will of God (1 Thess. 5:19-22; 1 Cor. 14:29-35).
2) Prophecy must be tested to ensure that it harmonizes with the clear teaching of Scripture.
3) Prophecy must be shared in love, to build individual faith and strengthen congregation life. Prophecy should not be exploited publicly to criticize leaders because of disagreement or to shame someone by name because of sin and disobedience. Such prophecy (if any) is best tested by a small group of spiritually mature leaders of the church.
4) Caution must be exercised when someone claims to have a prophecy which reveals the "will of God" and decreeing what is acceptable or unacceptable in personal matters related to marriage, occupational choices, music and entertainment.
5) Be careful about (a) prophecy which purports to reveal the will of God in political matters which creates divisions in church and (b) prophecy which warns about impending natural disasters and causes unfounded alarm among God's people.
6) Avoid excessive dependency on prophetic words which excuse believers from having to work diligently through issues and to learn to make informed judgment in making daily decisions based on right understanding of the Bible.
7) Prophecy must not be allowed to dominate congregational meetings. The primary means of God's guidance are prayerful personal study, public exposition and group discussions of the Bible.
It should be emphasized that the above tests do not constitute a fool-proof safeguard against false prophecy. It is not a mere legalistic and rational procedure carried out with impeccable logic. In the final analysis, it is only he (or the congregation) who has the gift of discernment (1 Cor. 12:10; 14:29) who will be spiritually enabled to judge the divine origin and the authenticity of any given utterances. As James Dunn said, "The test of kerygmatic tradition could most easily degenerate into a set rule of faith; but at this stage confessions were more into the nature of slogans than dogmas, slogans which are needed to be interpreted afresh in different situations. And the tests of love and oikodome are criteria which by their nature could not be used in an arbitrary or casual or legalistic way. In other words, the application of such criteria in assessing charismata would have itself to be charismatic – that is, carried through in conscious dependence on the grace of God and the inspiration of the Spirit." [Jesus and the Spirit, (SCM, 1975), p.297]
Related Posts
– Distinguishing "Revival" from "Revivalism"; Discerning True from False Prophets
– The Gift of Prophecy in the New Testament Part 1/2
– The Gift of Prophecy in the New Testament Part 2/2
– No Succession of Apostolic Office in the Bible – The Claim of New Apostles is Unbiblical