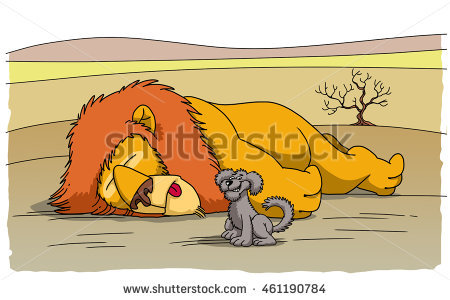 Dog-Thoughts as we enter into the Year of the Dog: Part 1
Better to be  a Live Dog than a Dead Lion
There are times when life disappoints us even to the point of despair. Ecclesiastes 9: 3 confirms our fears: "This is the miserable thing in all that is done under the sun: One fate comes upon all. Moreover, the human heart knows its full measure of misery and folly during life—and after it, they join the dead."
It is good at such times to take heart the counsel given by Qoheleth, the author of Ecclesiastes.
9:4 But whoever is among the living has hope;
a live dog is better than a dead lion.
9:5 For the living know that they will die, but the dead do not know anything;
they have no further reward—and even the memory of them disappears
9:6 What they loved, as well as what they hated and envied, perished long ago,
and they no longer have a part in anything that happens on earth.
For Qoheleth, "a live dog is better than a dead lion"! Like most proverbs, the verse delivers truth with a punch. The despised, scavenging dog fares better than the King of the beasts? How can it be? Continue reading "A Live Dog is Better than a Dead Lion? (Ecclesiastes 9: 4) – Enjoying Life between Misery and Mystery"