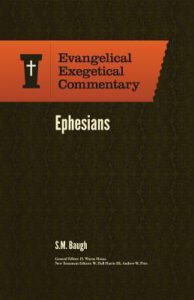 The Augustinian view of election of believers outlined in the comments on Eph 1:4 in particular has come under challenge recently from scholars who defend a view they term "corporate election." Brian J. Abasciano explains:
Most simply, corporate election refers to the choice of a group, which entails the choice of its individual members by virtue of their membership in the group. Thus, individuals are not elected as individuals directly, but secondarily as members of the elect group.… Individuals are elect as a consequence of their membership in the group.… On both the individual and the corporate level, election is contingent on faith in Christ.
This view is proposed over against the historic Augustinian/Calvinist view, which, we are told, "refers to the direct choice of individuals as autonomous entities" and leads to a "maverick Christianity" of isolated individuals rather than to a healthy, unified church.
Furthermore, we are told, the insights of the "new perspective on Paul" (NPP) have bolstered this corporate view of election as consistent with E. P. Sanders's homogenized view of Second Temple Judaism, in which corporate Israel was elected gratuitously and individuals enjoyed this election and predestination only insofar as they maintained their status within the group through personal covenant fidelity, i.e., obedience to the law. It should be noted that not everyone agrees that the radically diverse groups in Second Temple Judaism can be homogenized quite so easily.
The argument for corporate election as it relates to Ephesians concentrates on Eph 1:4a (καθὼς ἐξελέξατο ἡμᾶς ἐν αὐτῷ, kathōs exelexato hēmas en autō, "insofar as he chose us in him"), where ἡμᾶς (hēmas) ("us") is said to refer not to individuals but to "the church as a whole, especially as it was uttered in a collectivist cultural milieu in which the group was seen as primary and the individual as secondary, embedded in the group to which he belonged and referred to as a result of his membership in the group." Continue reading "Paul Teaches that Election to Salvation is Individual, not Corporate. Ephesians 1:3-14"