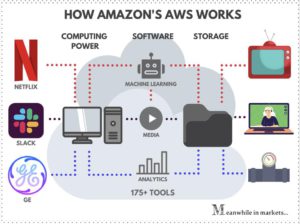 In terms of long term influence, Google and Amazon are scarier than Facebook. FB, which has been the focus of so much attention recently, is still limited to being a social network, but Google/Amazon have far wider areas of tech influence and are near impossible to get rid of.
Facebook (and WhatsApp) generally only exists in the consumer space, consumers can still to a certain degree choose to leave their products. In contrast, Google/Amazon run the infrastructure for the whole web. You simply cannot run away from them. For example:
Google's Pervasive Influence
GOOGLE is "God's Official Online Guide to Locate Everything." Next to God, Google knows everything. It's dominance of the web is well-known with its 63.4 % of the desktop-browser market share, compared to Safari (19.2%) and Firefox (3.8%). [Source: Statcounter]
Likewise, YouTube (as one of Google's subsidiaries) remains by far the most popular online video destination worldwide, garnering more than 63% of online video viewing, compared to its nearest competitor, Netflix, which nabs 39% (as of July 2019).
What most people missed is that fact that Amazon is the real giant behind the sin as it quietly controls much that goes on in the Internet.  Given below are some excerpts taken from How Amazon Quietly Powers The Internet
Amazon's Dominance
Amazon is running an "operating system" that powers some of today's most important technologies such as virtual reality, machine learning, and even quantum computing. Behind the scenes, it is utilized by over a million companies—including tech giants Apple AAPL -2.3%, Netflix NFLX -2.2%, and Facebook FB -4%.
It's Amazon's cloud arm that is serving over a million companies across the world…
AWS is the operating system of the internet
Amazon's operating system now powers AI, blockchain, and other next-gen technologies…Today, this system offers an unmatched set of 175+ tools that help companies build software harnesses today's top technologies. [Refer to image given above]
The list includes blockchain, VR, machine learning (AI), quantum computing, augmented reality (AR), and other technologies that are the building blocks of today's internet.
Today, Amazon controls 33% of the market, leaving its closest competitors Microsoft (2nd with 18%) and Google (3rd with 9%) far behind in the dust. That means nearly one third of the internet is running on Amazon's AWS [Amazon Web Services].
That's why Parler's fate was sealed when Amazon joins Google and Apple to ban Parler. Behold the Dragon and the Beast? 


Speaking from first-hand experience, even my website, Krisis & Praxis is hosted by Amazon – technically I am at its mercies. Thankfully, I am likely to be overlooked since I am a small fly (micro fly) and not worthy of attention. How ironic it is that one may survive only if one is small and insignificant!